Classic Slim 187
Adjustable Fit
Corrects one field of vision
+$0
If your prescription has an ADD Power (ex: +2.00). No-line bi-focal lenses.
This requires an ADD power in your prescription. If you do not have an ADD power, select Single Vision.
+$120
No power correction, UV, Anti-reflection, Hard coating included
+$0
Over-the-counter reading glasses (no prescription needed)
+$0

High-index, aspheric, anti-glare and UV-cut coating all included
+$0
Made in Japan Lenses
Premium Japanese-made lenses with a three-layer Invincible Coating. Learn more.

Features an Invincible Coating to prevent scratches, dust, and reflections.
+$100
Blue Light Lenses
Premium screen lenses that block blue light
and help reduce eyestrain.

Blocks 25% of blue light. Recommended for daily use. Appears light yellow tint.
+$30

Blocks 40% of blue light. Recommended for heavy screen users. Appears greenish tint.
+$60
Sunglass Lenses
Turn any frame into sunglasses with
polarized or dark lenses







Photochromic Lenses
Transitional UV reactive lenses for indoor and outdoor use


Color Lens Tints
Customize your glasses with solid color lens tints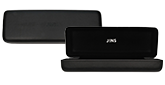 +$0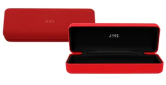 +$0
Cases For Causes
JINS will donate all proceeds from the case to each NPO charity

San Francisco Baykeeper's goal is to clean up the water in San Francisco Bay, protecting the nature and wildlife.
+$5

Jumpstart is an organization working to help children in America to succeed in early education.
+$5

Helps independent conservationists save endangered species by providing them with tools and support.
+$5

Supports the efforts of local NPOs who share a common goal of promoting diversity and inclusivity
+$5

MAFF is partnering kids with actors and directors who can help them rediscover their creative side.
+$5
If you are looking for a pair of round eyeglasses with a classic finish and delicate details, look no further than the JINS Classic Slim 187.

These lightweight acetate frames have a thin silhouette, but the full rim and fine finish demand attention. Designed in Japan, these JINS glasses have an adjustable nose pad to ensure maximum comfort, and the medium width means they'll fit most faces.

When you order any pair of JINS glasses, you'll enjoy free shipping, a 30-day return policy, and a one-year limited warranty. You can also be confident in the fit with a complimentary worry-free adjustment at any JINS store.
SKU

UCF-22A-187-94

FRAME SIZE

Medium

FRAME SHAPE

Round

MATERIAL

Acetate

NOSE BRIDGE

Adjustable Fit

NOSE PAD TYPE

Adjustable

FRAME TYPE

Full Rim

FEATURED

CATEGORY

Unisex

FRAME DIMENSIONS

48.0-20.5-142.0-43